She's always been there for you, so show your mom some love this holiday with gifts she'll be sure to love!
Every year our Editors at SLH hunt for and find great favorites at excellent prices. This year we really think we've hit it out of the park.
Take a look for yourself! We've included links to every product on our list so if you see something perfect for your Mom, you can get it immediately and have one less list item for your holiday…let's get shopping!
Does your Mom live for hitting the slopes? Unlike all the time she's spent perfecting her moves, those snow goggles she's had forever are not getting better with age. In fact most ski experts will tell you that even a well-cared for set of goggles should probably be replaced every 2 to 3 years. So if your powder-loving Mom is in the market for a new pair, check out Blenders' Snow Bundle collections. The bundle comes with Blenders' Toric lens that are scratch resistant, anti-fog and 100% UV protection, their custom waffle knit Blenders beanie and a sleek 'Dome' helmet with MIPS technology (because even the most experienced should still have some protection on challenging slopes). One of our favs that's perfect for Mom is the Rainbow Snow Bundle, with bright colors easy to see on the slopes, and an equally cheery Color Rush lens. Bonus – it comes with an extra low-light lens that Mom can quickly swap out (thanks to the Blenders Rapid Magnetic Interchangeable Lens System).
(a $240 Value!)
Finding the perfect pair of go-with-everything jeans can be a real treasure hunt. Lucky you, we've found them! Not Your Daughters Jeans are made with their proprietary "Lift X Tuck" technology that gently flattens the front and contours to a woman's curves to flatter from all sides. And we are talking all sizes of women here, from 00 up to size 18. What else? How about the fact that their BlackLast™ denim stays dark longer than typical black denim and has a lower environmental impact thanks to recycled plastic fibers, a minimal-water dye process and reduced chemical and energy use. Your mom is going to love them.
While wisdom grows with age, unfortunately hair is another story. According to the American Academy of Dermatology, 40% of women at age 40 will begin (if not already) experiencing thinning and hair loss. Healthy scalp care is key. This power duo from Beauty Bio works to keep that scalp healthy. First, the GloPRO® SCALP attachment's cushion-flex engineering gently hugs the natural contours of the scalp for comfortable, targeted stimulation treatments with zero tugging or breakage. It's not just a great stress-busting massage, it also increases blood circulation. Then the Healthy Scalp Serum, formulated with proprietary FolliGRO™ complex works to improve hair density, dissolve damaging product buildup, regulates oil production and banishes flaking after one application. In case you think this all comes at the price of a lot of bad-for-your-body chemicals, the serum has zero silicone, parabens, or sulfates. And if your Mom is also a fur-Mama, she'll love that Beauty Bio does no animal testing.
Give your Mom a gift as unique as she is, with her very own astrological constellation charm from Baublebar. Each medallion contains colored stones matching the prominent birthstone of each constellation, laid out in the unique pattern of the constellation themselves. Present these gold-plated beauties with one of Baublebar's 18k necklaces or charm bracelets, so Mom can show off her celestial bling. And right now they are on sale for just $10 each, which means you can include the rest of the family members too (Mom will be so proud that you remembered everyone's birthdays).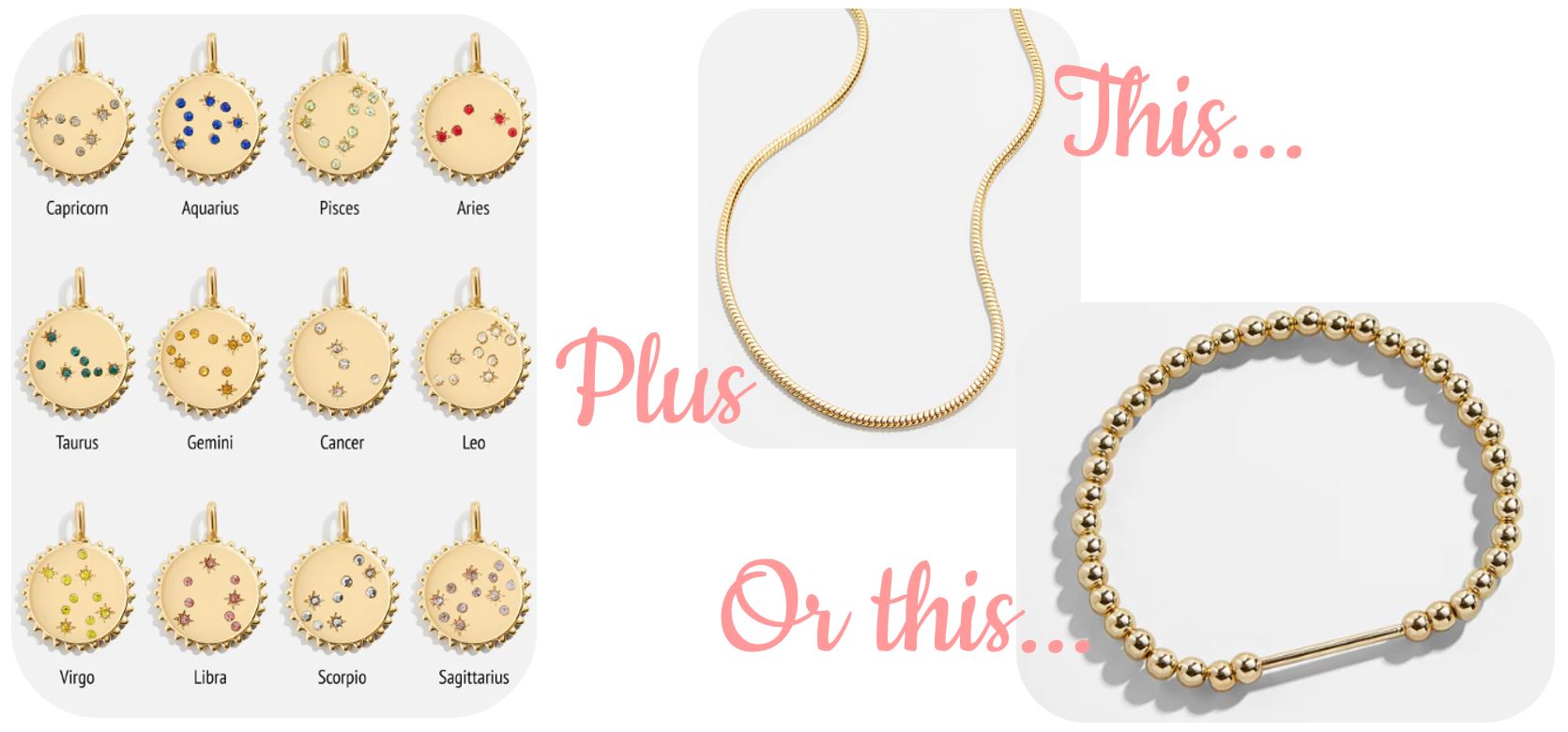 Winter skin damage is no joke. Your Mom's dry skin needs more than just some tube of greasy, pore-clogging chemicals. This skin care set by clinically recognized skincare brand, Kate Somerville, will have Mom cocooning in good comfort and good health. skin is dry, tight, or sensitized. Includes a travel size trio of Kate's breakthrough clinical recovery collection proven to hydrate, relieve & restore skin that's stressed or sensitized. Free of fragrance, phthalates, parabens, sulfates, mineral oil and dyes.
Looking for a cool stocking stuffer for your literary-loving Mom? If she's a LOTR fan, this will soon become her "one mug to rule them all".
If your Mom has caught the Puzzle bug, this is a present she'll adore. 400 pieces keep it challenging but the real joy is when she sees that the puzzle is actually an aerial map of her neighborhood (map covers area of 1 mile North to South & 1.5 miles East to West). The best part? The final, center piece is her own home, carved in the shape of a little house. Now that's crafty!
Got a Mom who loves to cook and looking to expand her repertoire? Sur la Table offers 90-120 minutes classes in a password-protected Zoom environment, with expert chefs that she can safely interact with directly as she cooks. Classes range from beginner to advanced and cover all sorts of meal creations including meats, vegetarian dishes, pastas, soups…just about anything you can put on a plate. Calendar sign ups are listed on the site so Mom can choose in advance what she'd like to try.
Got a Mom who loves her cup of Joe? Give her a taste of the world with Onyx Coffee Lab's Coffee Advent Calendar. The calendar features 24 unique single-origin coffees from all over the world. Each bag holds two ounces of whole beans—the perfect amount for one pot o' joe.
This isn't just any old hoodie. This handmade, 100% Merino wool, full-zip cardigan is the mother of all hoodies.  Super soft with a gorgeous textured pattern, Mom is going to love wearing this everywhere there's a nip in the air.
(on Sale NOW from $149)
What's the fastest growing popular sport for people over 55? That would be Pickelball. With 4.8 million people now playing (almost double the number from just five years ago) this entertaining sport that's a mash up of tennis, ping pong and badminton is a fantastic aerobic activity that improves flexibility, hand-eye coordination and it's a great social activity. If your Mom has been bitten by the Pickle bug, or if she's just looking for a new social activity to do with friends, get her started on the right foot with a proper starter kit. This one from Holabird Sports comes with two standard paddles, two pickleballs and a mesh bag for traveling to and from the court.
When Mom travels, she likes to be organized. This five piece packing cube set from CalPak will have her crushing that goal with ease. There are four mesh fabric cubes made of super durable polyester (one 17″, one 15″ and two 12″ cubes), as well as a water-resistant envelope pouch (13″). Comes in 14 color/pattern options, but we're partial to this adorable daisy design.
(on Sale NOW from $68)
Speaking of travel, sometimes the unexpected happens. Keys get left somewhere, wallets fall out while digging for phones, or maybe on your Mom's trip that luggage that should have met her at the baggage claim has gone walkabout somewhere between Oregon and Ohio. This season, give Mom the peace of mind. For just about anything that she needs to keep track of, Tile can do it. This starter pack includes 2 Bluetooth enabled tracking devices – one perfect for attaching via a ring to keys, purses, wallets, luggage and another Slim fit that is as thin as a credit card and can be slipped into a wallet, or sticky attached to a laptop, or any other object. If something goes missing, Mom can locate it on her phone app (including that lost luggage via GPS). And if she loses her phone? She can double press the Tile button on her Tile to make her phone ring (even if it was set to Silent mode).
(on Sale NOW from $68.99)
If she's a proud fur-Mama, we're pretty sure this is her opinion most of the time. Super soft poly cotton, it comes in sizes from S to XXL. For every sales, I'd Rather Be With My Dog donates 5% to 10% of their sale to animal rescues and canine/feline cancer organizations (a different organization every month). That should make everyone feel a little warm and fuzzy.
Everyone deserves some cool kicks, especially Mom. Inkkas are 100% Vegan and handmade with a mind boggling selection of artisan designs and sizes. All workers are paid living wage and the shoes are made with Fair Trade materials. This fun floral number caught our eye, but there are many more. What else is cool about these? For every shoe purchased, Inkkas donates to the "One Shoe, One Tree" organization that reforests new trees around the world.
There are cookies, and then there are cookies. Guess which these are? Milk Bar is a sweet (and occasionally savory) shop that's been turning familiar treats upside down and on their heads, shaking up the dessert scene since 2008. Bon Appetit magazine called them "one of the most exciting bakeries in the country." But you can literally just call them Milk Bar. Their flavorful treats are delish and sometimes unexpected (like their Cornflake-Chocolate-Chip-Marshmallow cookie). They are also a powerhouse team of over 75% women in their company and support various organizations from Black Lives Matter to Cookies For Kid's Cancer. What a sweet choice!
With 15 hours of playtime, these sweat and water resistant, 100% wireless buds by PowerBeats have tap button controls and ultra-light, super comfortable no-slip grip that make these a go to for a Mom on the go. Not just for great workouts they can pair with her phone, computer, tablet or just about any Bluetooth device. They also allow for complete hands-free with "Hey Siri" and  many other voice assistant programs.
For the Mom who takes her scents seriously but not herself. This collection from PaddyWax Candle company is called "Impressions". Each matte ceramic container contains a 5.75 oz candle inside and showcases one of eight fun hand signals. Each sign has its own scent as well. Our fav is the "Love Ya" but we encourage you to go with your own first impression.
Does your Mom do the "glasses on face + glasses on head" look at the beach, pool, lake, river, park, lunch, etc? Talk about frustrating. Have you heard her grumble "Why can't someone make sunglasses with readers?!" Well Mom, Zenni (and your favorite son) is here to change that. Zenni offers prescription progressives, bifocals and readers in a variety of styles (Tortoiseshell is shown above) with transition lenses that turn them into sunglasses when outside. Finally, no more playing musical chairs with her glasses and sunglasses.

Mom's safety has no price, but there are plenty of options. This system by Cmple gets our review for a few reasons. It's a one-button model with a two-wire system for easy installation. It is IP54 weather resistant, has an auto-sensing LED light for easy vision in poor lighting conditions and the inside command panel is a 7-inch, TFT color monitor screen, with a logic-tree style touch screen operation. The fish eye lens on the outside can tilt and zoom. If Mom isn't home, she can still see and talk to whoever is at the door via her phone app. Oh, and one last note, this system can record, but all records are stored directly on the systems SD card, not on the cloud like some other systems. Anything recorded is saved on the card, so no concerns of system "sharing", if privacy is something you or your Mom might be anxious about.
Got a Mom who's into her Marys? Help her get the party started with almost everything she needs to create a savory Bloody Mary bar. Kit includes Bloody Mary drink mix, dill pickle hot sauce, garlic dill cornichons, pitted grilled green olives, and chili lime spice rub to use as savory rimming salt. Mom can add her favorite vodka to the mix for a classic cocktail, or simply serve over ice for a delicious non-alcoholic beverage.
For the Mom who takes her tea seriously, shouldn't she have something better than a non-descript, stainless steel? This 3-quart tea kettle from MacKenzie-Childs is as beautiful as it is useful. Sturdy enamelware outside with heavy-gauge, hand-glazed steel underbody. The Parchment checks are hand painted and rimed in bronzed stainless steel. The kettle is topped with an amber-colored glass knob lid and an ergonomic wood handle. Whether she prefers her tea white, green or black, your Mom will enjoy showing off this unique, hand crafted kettle.
For the gridiron, baller and/or baseball loving Mom, the Dooney & Bourke Sports bag collection is the ultimate wild card of her wardrobe. Rock it to the tailgate? Yup. Wear it at the game? Absolutely? Show it off at a game viewing party? Heck ya! Give your Mom the gift of Rep with a huge selection of wallets, crossbody bags, totes and more. Team options include NFL, MLB and NCAA.
(Prices Vary by Purse Type)
The PhoneSoap Wireless utilizes Qi wireless technology to charge your phone without needing to attach it to a charging cable, while the UV-C light sanitizer kills 99.9% of germs (including Covid-19). Works with iOS, Android or any phone operating system. The glowing lighting bolt on the outside will glow when the object inside is clean. And it's not just for phones. The PhoneSoap Wireless can sanitize keys, credit cards, ear buds, or anything else that can fit in the loading container. Cool bonus, there's an additional external port that allows you to charge an additional object outside while the object inside is being sanitized.
Your Mom is a vibrant and active person. So why let her keep toting that dull, neutral gym bag? This gym bag is a collab between adidas and the iconic Scandinavian brand, Marimekko. Now this is a stylish way for Mom to stash her stuff! Multiple pockets throughout including a main zip compartment and 2 side compartments, a hidden zip pocket in the front, with an inner zip in and smaller inner zip pockets for stashing keys, phone, etc. It has a shoulder strap and hand grip for carrying options that adds just the right amount of athletic bling.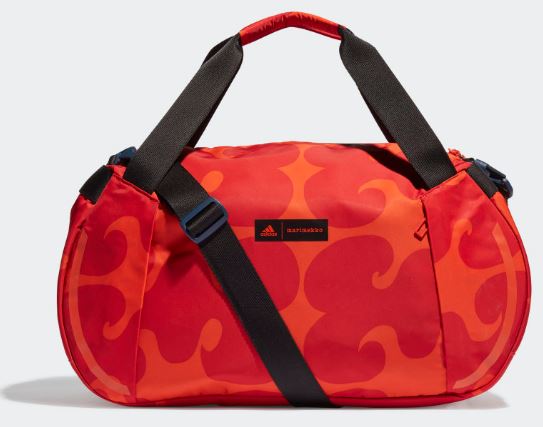 (on Sale NOW from 70)
You know you're Mom is a total bada$$, so she's sure to enjoy this book of motivational aspirations from powerful, real life heroines. A little wit and a whole lotta wisdom is packed into this easy read of a book.
This universal gift is perfect for all Moms, at all levels of experience on the mat. The 1-year membership to Alo Moves provides epic yoga, meditation & fitness videos with the world's best instructors, available for streaming on all devices. After purchase, Mom will receive a unique code via email to redeem her online membership and start practicing.