At SLH we know, Dads can be hard to shop for. Oftentimes we tend to put his gift towards the end of the list, hoping between now and the 25th we somehow stumble across that miraculous item perfect for him.
This year we're helping you curb that last minute "what-on-earth-do-I-get-him??" scenario. We've put together a great list of uniquely handsome, interesting and fun gifts, at excellent prices that we think Dads everywhere will really love.
If there's one story most common among water-loving sports Dads, it's how they lost their favorite pair of sunglasses. Whether your Dad is into fishing, surfing, boating or just loves the water in general, the Float2 O series from Blenders is a present he's sure to love. First off, their polarized, with 100% UV protection, but the Blenders team didn't stop there. These shades are engineered to actually float, making it so much easier for Dad to locate and retrieve the little buggers if they manage to slip off his face. Big Bonus? They come with an anti-salt water coating, so Dad doesn't have to split his time between enjoying the waves and wiping off the brine.

Dads love their phones, but in these days his phone may not be loving him back. The PhoneSoap Wireless utilizes Qi wireless technology to wirelessly charge his phone, while the UV-C light sanitizer kills 99.9% of germs (including Covid-19). Works with iOS, Android or any phone operating system. The lighting bolt on the outside will glow when the object inside is clean. And it's not just for phones. The PhoneSoap Wireless can sanitize keys, credit cards, ear buds, or anything else that can fit in the loading container. Cool bonus, there's an additional external port that allows Dad to charge an object outside while the object inside is being sanitized.
If it were up to Dads, they'd probably live in their slippers all day. This year give him a pair that look good enough he can. Clarks has been making slippers since 1825, so they know a thing or two about classic styling that lasts. Soft suede on the outside and cozy faux fur on the inside, these slippers could pass as his favorite loafers or car shoes. Grippy rubber soles keep him firmly on his feet. Get him a pair of these and the next time he boasts that he never "got out of his slippers all day" you can take that as a compliment.
Dads are a sentimental bunch. With most of our favorite photo memories these days stuck in our phones or sitting on some social media platform, wouldn't it be great to give your Dad the gift of being able to see those memories? We're not talking about any old photo-to-canvas here…Fracture is a fully custom photo service that takes your favorite online pics and infuses them on glass. The picture ink is sprayed directly onto high quality, very durable, glass that's been sized exactly to fit. It's then immediately cured in a special UV process, then an opaque layer of white ink on the other side and finally a lightweight, minimal mount. The end result is a depth of color that looks almost three dimensional. And you won't have to worry about any long term fading, like with pigments on paper or canvas. The company guarantees their work with a 60 day Happiness Guarantee, and they also active practitioners of carbon neutrality in their manufacturing and shipping processes.
Have you got a Dad that can tell you in detail the difference between a Belgian White and a German Weißbier? Craft Beer Club's shipments include 12 bottles of some of the most fantastic, small production craft beers from across the 50 states. Each box showcases two different breweries from two different regions in the US and includes 4 different beer styles (2 from each brewery), which change each month. These include the brewery's award-winning, flagship, or most popular beers for him to discover and enjoy. Along with each box they include 2 publications of Micro Brew News for him to learn the background story about the featured breweries that month, the beer tasting notes, recipes to pair with them and even some beer trivia! Plus bonus gifts from time to time as well. You can set him up with just a month to start, or give him a full year's worth of bragging rights and brewskies.
Have a Dad who's particularly fond of his glorious face mitten? Give him a gift of highest quality, worthy of his gentlemen's coif with Scotch Porter's Ultimate Beard collection set. It includes everything needed to cleanse, condition and style his beard, plus a Boar's Hair Brush and Kent Pocket Comb to keep his beard tamed, and also ignite his facial oils to keep his hair shiny, healthy and clean. Scotch Porter is one of the most recognized names out there for beard products, with 5 star ratings and quite the cult following. He's sure to appreciate and use as part of his daily beard ritual.
Was your Dad big into bands in his day? Maybe he still likes to put on the old CD sometimes and jam to his favorite Goth, Heavy Metal, SynthPop or early Grunge (y'know, back when it "used to be about the music"). Okay so maybe you've spent years tuning his tunes out, but we're guessing you probably have an idea of some of his all-time favs. Redbubble has over 20,000 different Tees with all sorts of popular bands from those times. Show him how much you appreciate that he shared his music with you, even if the whisper of "Flock of Seagulls" still invokes in you the mother of all eye rolls…
Got a techie Dad who loves his Apple Watch 4, 5 or 6? Here's something you can get him to help protect his precious piece of technology. Comes with a silicone + carbon steel waterproof sports case, with protective bumpers and a nickel-free steel band clasp that won't rust or discolor ever. The case comes in blue, red, silver, gold or black.
Cool Dads know there are hoodies and then there is the Hawthorne by Legends. It's their best selling hoodie, so you know this is good enough for your proud papa to rock into his wardrobe rotation. What makes it so amazing? 4-way stretch, moisture wicking and anti-microbial materials are as buttery soft as they are effective. It even has a scuba neck hood for added warmth. Show Dad that the "They don't make 'em like they used to" slogan is definitely not the case here.
The newest edition to the 5-star line up of Belkin smart speakers, the SoundForm Elite was created in partnership with sound engineering pioneers Devialet. Fully compatible with Alexa, Google Assistant and AirPlay 2, it also has a phone charging cradle on top, allowing Dad to answer incoming calls. High fidelity sound with full-resonant bass will let Dad hear his playlists and podcasts in crystal clear audio. It can also pair with other wireless speakers to fill the house. Let the house party begin!
Does Dad really need a tiger engraved Zippo lighter? No. Would he like one? Hell. Yes. Zippo lighters have withstood the rigors of world wars, record-breaking expeditions, and even pandemics. This one is no different, but does feature a special polished brass shell with a tiger engraving. The jungle cat seemingly floats atop the surface of this windproof lighter ready for a lifetime of use. The heirloom-worthy lighter ships in a display case and comes with a lifetime guarantee. Consider it the season's most awesome stocking stuffer…you're welcome
If you've got a Dad that is a real whiskey connoisseur, this is a truly unique and very cool gift. Made in Ireland from 100% Connemara marble, these stones will keep his drink cold without having to water it down with ice. The perfect match for your Dad's next tibble, straight from the heart of the land that invented it.
This is more than just a phone case. This case is a statement, designed exclusively for ShopVida by none other than the world-renowned artist, speaker and educator Synthia Saint James. Her accolades include designing the first Kwanzaa Stamp for the U.S. Postal Service, the cover art for Terry McMillan's best-selling book "Waiting to Exhale", and her artwork has graced the walls of US Embassies across the world. An outspoken advocate for multicultural respect and unity, Ms. James not only partnered with ShopVida to create this case (and other items in her collection), but 10% of profits from this collection go to Black Women's Public Policy Institute, to support their vision to connect and advocate for Black women globally through acts of kindness and public policy. Comes in ultra slim or Tough, for iPhones 7 through 12 Pro Max.
Show your Dad that you know the Force is strong with him. Made in the USA, the Dr. Squatch brand products contain crafted combinations of organic oils, natural exfoliants, moisturizers, and clays. They've achieved cult status for their focus on products targeting a variety of men's skin needs. This limited edition Star Wars collection offers Dad two Light Side and two Dark Side soap options and comes in an awesome collectors box. Oh and for the record, they smell amazing…that's according to us and over 9,000 Amazon reviewers.
Is your Dad a major Sneakerhead? Does he have releases marked on his calendar? DTLR-VILLA is the place to find the latest drops on all Jordan, Nike, Reebox, New Balance, Huf, Android Homme and Adidas retro, collabs and limited edition shoes. If these retro-release 1985 Air Jordans don't do the trick, you can find pretty much everything else from the Nike LeBron 19 to Jaden Smith 'Vison Racer' to Pharrell's Hu Mnd and everything in between. Prices will vary (natch) and releases are limited time only, so if you find something, grab it for your Dad and run with it!
Got a Dad who loves to grill? Hearty and delicious, this collection from Rastelli's is a steak lover's dream. Featuring two each of the following cuts—filet mignon, New York strip, ribeye, and filet of top sirloin—these mouthwatering entrées are sure to satisfy. They come from Black Angus cattle raised on midwestern plains, fed a 100% vegetarian diet and corn-finished for optimal marbling and tender beef. Each steak is wet-aged for at least 21 days and trimmed to exacting standards to guarantee exceptional flavor from the first bite to the last.
We love Dads with a sense of humor. Sure, the "dad jokes" may get old quick, but deep down we can appreciate a Dad who's not shy to rock his quirk. If you've got a Dad like this…first, Congrats! Second, get him a stocking stuffer that will give him a good chuckle. Whether he's a mustachioed gentleman or a joke enthusiast, consider this Handlebar Mustache tie bar a nod to his fatherly comic pith.
When Dad's travel, they like to be organized. Help him pack smarter with this five piece packing cube set. Made of super durable, water-resistant but breathable mesh fabric, there is a 17″, 15″, 13″ and two 12″ cubes per set so he can easily separate shirts from shoes and toiletries from tube socks. They look great too, with 10 color/print options.
For the Dads who cherish a well-balanced, precision writing instrument, this newest in the Everyman.co fine writing pens collection is a piece he'll keep for a lifetime. The solid brushed brass adds distinctive appeal and a heftier weight (1.8 oz).  The convenient compact length accommodates pockets and other snug carry points. It also accepts a variety of refills making it one of the most versatile pens on the market. Waterproof and scratch-resistant as well.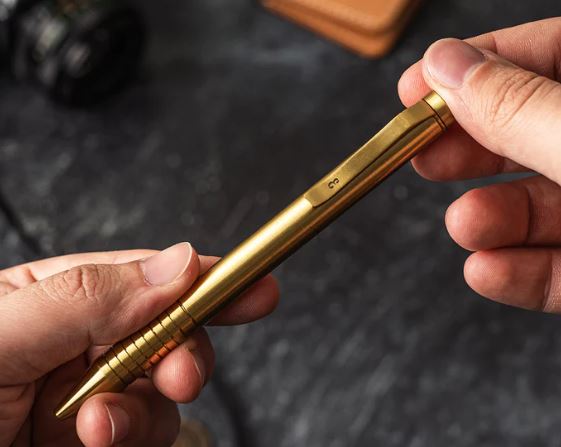 For the father who served, QALO has partnered with the US Marine Corp to create this one-of-a-kind men's gift ring. It's made from Q2X silicone that is temperature tolerant, gasoline & oil resistant, and non-conductive, making it functional for even the dirtiest jobs in the harshest environments. For an additional $11.21 you can have an up to 12 character name or message engraved on the inside of the ring. If your Dad served in another of the armed forces, QALO also has partnered with the US Army, US Coast Guard and US Navy, so those versions are available as well (for the same prices as quoted here).
(on Sale NOW from $23.95)
Don't let your Dad rock just any old sweater. This handsome half-zip comes in three color options and is made of 45% reclaimed, recycled wool. So not only is it super soft and cozy warm, it's also kind on the environment.
Using the latest Bluetooth 5.0 technology, these headphones were built to handle rough workouts but are also fantastic for travel or casual home use. Sweat and water resistant (you can even run in the rain with them) they have 35 hours of playtime on a full charge (10 hours after only a 1 hour quick charge). Noise cancelling, they also have a built-in mic for taking calls. Compatible with all devices, including voice assisted devices like Alexa. It has a 5 star rating from Amazon, and major kudo reviews from CNET and NerdTechy. Sounds pretty good to us.
The love affair between Dads and their tropical shirts is strong. One might even argue that it's impossible for Dad to do any BBQing without one. This season give him a shirt he can be proud of. The Madda fellas have been selling top-quality men's island wear for years in the Florida Keys, and now you can bring a little bit of that Caribbean flavor to your Dad's wardrobe.
(on Sale NOW from $148)
And last but not least, we have a stocking stuffer for the beer-loving Dad who loves to show off what he knows. This Card Game will separate the ale-ficionados from the stout-right idiots. It's the game where the winners will realize they either have a photographic memory or a drinking problem. 6 game variations that require knowledge of the origins of beer brands, their style, alcohol content and more. It's definitely one for the beer geeks.